Reviews of PURE HEART (SUNNYSIDE)
Downbeat
NPR Fresh Air with Terry Gross
Jazz Trail
Pop Matters
L.A. Jazz Scene
Metal JAzz
Downbeat
Downbeat Review of PURE HEART
by J.D. Considine
Composition and orchestration have long been recognized as essential skills in the art of making music, but what about personnel management? Getting the right players for a project can make all the difference, whether on the stage or in the studio, yet somehow "how to hire a band" remains absent from some conservatory curricula.
Should a school decide to establish such a course, I strongly would recommend hiring James Carney to teach it, if only on the basis of Pure Heart. On five tracks, the Brooklyn-based pianist offers music of astonishing complexity, both in terms of composed counterpoint and improvisational interplay. Listening to how perfectly the parts fit together and feed off one another, the metaphor of a watchwork comes to mind, with its intricate balance of cogs and gears. This is the sort of sound that typically takes months of rehearsing and touring to perfect—not something that simply can be thrown together with strangers in the studio.
And yet, that's pretty much what Carney did. Although tenor saxophonist Ravi Coltrane appeared on Carney's first album, 1994's Fables From The Aqueduct, none of the others had played with Carney before—or, for that matter, with each other. Just listen to the effortless precision with which they dispatch the slow build of "Inharmonicity," where the horns enter gradually and individually over a knotty, polyrhythmic pulse before slotting into a tangy ensemble section. If that doesn't suggest long hours spent playing together, then certainly the interlocking, conversational lines of the subsequent group improvisation does. How else to explain the way Stephanie Richards' trumpet works so perfectly against Oscar Noriega's bass clarinet, or how Coltrane's tenor so frequently locks in with Tom Rainey's drumming?
There's more, of course. On "Mayor Of Marceluus," the sinuously serpentine melody and 31-bar form is effortlessly anchored by a linkage between Dezron Douglas' bass, Rainey's right foot, and Carney's left hand. There's the harmonic lushness of "Forty Year Friend," on which the ensemble writing sounds like a small big band, and Noriega and Richards manage an almost telepathic degree of interplay while improvising. There is, to be honest, more spark, wit and passion in the playing than strangers ought ever to be able to manage, and for that Carney deserves a critics poll category of his own: Best Blend of Players for a Studio Project.
Jazz Trail
Jazz Trail Review
by Filipe Freitas
Personnel - Ravi Coltrane: tenor and soprano saxophones; Oscar Noriega: bass clarinet, alto saxophone; Stephanie Richards: trumpet; James Carney: piano; Dezron Douglas: bass; Tom Rainey: drums.
Pianist and composer James Carney has been an important figure in the New York scene for years, whether leading interesting groups assembled to carry out his creative ideas, whether curating and hosting the improvisation-centered Konceptions music series in Brooklyn.
His new outing, Pure Heart, features a sextet composed of a powerful three-horn frontline with saxophonist Ravi Coltrane, multi-reedist Oscar Noriega, and trumpeter Stephanie Richards, and a gritty rhythm section that puts bassist Dezron Douglas and drummer Tom Rainey side by side for the very first time. Despite the different aspects of their musical personalities, interesting things happen throughout the five tracks on the album, a display on how utterly comfortable Carney is on his instrument.
That rare rhythmic empathy we find here is promptly brought to the table as we hear the first sounds of "Inharmonicity", a jolt of inspiring vitality comprising intervallic awe, impeccable synced accentuations, and a three-way horn conversation that soars with empowerment and freedom. 
Effectively melding tradition and avant-garde, the appropriately sinuous "Throwing Shades" is an imagination of how Horace Silver would compose in the modern times. The bass enters alone, later enjoying the company of the piano, which reinforces the groove. The horns align melodically during the theme, getting ready to set flight in solos that unfold with fearless posture. The bandleader also improvises, extending his actions by interjecting and reacting during Richards' conversational narrative. This number ends pacifically under a bass-and-drums spell.
"Mayor of Marcellus" emphasizes zigzagging consonances within an asymmetric form. It's a lush-looking collective effort that mirrors the personal sense of composition and instrumental color in Carney's artistry.
Written for a friend who died from brain cancer, "Forty Year Friend" is a sore, waltzing ballad brushed with sympathy and stirred by a clarinet statement and a subsequent sax-trumpet dialogue. Richards and Coltrane keep the conversation going on "Gerrymandered", but having Noriega's assertive bass clarinet right next to them on this occasion. They're given a chance to flex their muscles with obliquity before an introspective piano deliberation transpires over a bass-only substructure.
With an incredibly open and wide view on jazz, Carney and his new group surprise at every turn. Pure Heart is candid creative music.
Favorite Tracks:
01 - Inharmonicity ► 02 - Throwing Shades ► 05 - Gerrymandered
NPR
NPR Fresh Air with Terry Gross
Review by Kevin Whitehead 17 Aug 2020
(SOUNDBITE OF JAMES CARNEY SEXTET'S "MAYOR OF MARCELLUS")
KEVIN WHITEHEAD, BYLINE: Composer James Carney with a hat tip to his central New York roots - "Mayor Of Marcellus." That's a nice little town. It's from the pianist's new album "Pure Heart," recorded in 2016 but worth waiting for. Carney's good idea was to round up diverse musicians in a sextet that cuts across generations, stylistic preferences and social circles. The three horn players hadn't played together before, but they blend well, even when the terrain keeps shifting. Trumpeter Steph Richards, tenor saxophonist Ravi Coltrane and Oscar Noriega, mostly on the low, woody bass clarinet.
(SOUNDBITE OF JAMES CARNEY SEXTET'S "INHARMONICITY")
WHITEHEAD: Most of these players didn't know each other before recording "Pure Heart," but James Carney gave them ample opportunity to mix. In many jazz bands with multiple horns, wind players don't get to improvise together. But here they do. The horns in conversation feed off each other's ideas. On one exchange between trumpeter Steph Richards and saxophonist Ravi Coltrane, she grabs a descending two-note figure he plays on tenor and reworks it, letting it waft downward like a falling leaf.
(SOUNDBITE OF JAMES CARNEY SEXTET'S "FORTY YEAR FRIEND")
WHITEHEAD: And right at the end there, Ravi Coltrane calls back the falling two-note figure that episode started with. There are also three-way conversations among the horns, where Oscar Noriega jumps on bass clarinet. These trial logs aren't so different in principle from the jostle of horns and old New Orleans jazz bands, but here the improvised colloquies may have an inquisitive air. There are a lot of rising phrases, as if these new acquaintances were asking questions.
(SOUNDBITE OF MUSIC)
WHITEHEAD: In collective improvising from Dixieland to Miles Davis's funky "Bitches Brew," the rhythm section plays a crucial role in defining ensemble style. It wasn't only the horn players who didn't know each other before this project; it was the first meetup of two New York mainstays, bassist Dezron Douglas and drummer Tom Rainey. They make a tough team, kicking the band along. Here they are with Ravi Coltrane and the leader.
(SOUNDBITE OF MUSIC)
WHITEHEAD: Pianist James Carney's compositions are just complex enough, not too clever. They let the players expound without making them tongue-tied. Carney has a good sense of ensemble color. And to judge by his album "Pure Heart," he has good instincts about interpersonal chemistry. He throws a party where everyone's eager to mingle.
(SOUNDBITE OF MUSIC)
DAVE DAVIES, HOST:
Kevin Whitehead is the author of the new book "Play The Way You Feel: The Essential Guide To Jazz Stories On Film." He reviewed "Pure Heart," the new album by jazz pianist James Carney.
On tomorrow's show, Miami Herald columnist and author Carl Hiaasen. We'll talk about the pandemic and politics in Florida and his latest novel, a hilarious satirical crime story set in Palm Beach involving wealthy widows, the president and first lady and some very large Burmese pythons. It's called "Squeeze Me." I hope you can join us.
(SOUNDBITE OF MUSIC)
DAVIS: FRESH AIR's executive producer is Danny Miller. Our technical director and engineer is Audrey Bentham. Our interviews and reviews are produced and edited by Amy Salit, Phyllis Myers, Sam Briger, Lauren Krenzel, Heidi Saman, Therese Madden, Thea Chaloner, Seth Kelley and Joel Wolfram. Our associate producer of digital media is Molly Seavy-Nesper. Roberta Shorrock directs the show. And today, we are very happy to introduce our new associate producer Kayla Lattimore. Welcome, Kayla. For Terry Gross, I'm Dave Davies.
(SOUNDBITE OF MUSIC)
Pop Matters
Pop Matters Review
by Will Layman
In 2007 and 2009, pianist and composer James Carney released two septet records on Songlines that were dazzling examples of the orchestral possibilities of the new jazz. Greenwood used four horns, Fender Rhodes piano, and buzzing analog synthesizers to blend classic modern acoustic jazz with new ideas about how funk and pop forms could mingle with compositional/improvisational complexity. Ways and Means used the same range of players and sounds to more cinematic effect.
Carney took a break from recording in recent years. However, he was a critical presence on the Brooklyn jazz scene, curating (and often playing in) the weekly Konceptions performance series at Korzo, a Greek restaurant graced by a superb piano and listening space in the back. With Pure Heart, Carney returns with a new sextet, extending his artistry as a composer and musical thinker. He hasn't lost a step.
The band here is slightly smaller and lighter on its feet, with just three horns plus rhythm section. Carney's old friend Ravi Coltrane is on tenor saxophone, joined by Stephanie Richards on trumpet/flugelhorn and the clarinetist Oscar Noriega, who also plays some alto saxophone. Konceptions regular Tom Rainey is on drums, with bassist Dezron Douglas completing the band. The result is a recording that is still built around intriguing, appealing, puzzle-box compositions, but that also allows more open space for improvisation of a very high order by instrumental voices that have strong sonic personalities.
The first striking thing about Pure Heart is how often these players—several of whom were playing together for the first time in the studio for this recording—improvise collectively. On "Gerrymandered", for example, the rushing 8/8 flow has a theme that goes from a gentle flow featuring Richards's horn to a gripping unison line. Then, as if the clouds were parting over an open field, the three horns let go of the written melody and begin a misty, playful joint improvisation, moving in flowing rotations around each other. While Carney holds the rhythm section over a static pedal point, trumpet, bass clarinet, and tenor saxophone move around each other gently, like dancers. Coltrane sounds light, ripe, and flexible, and Richards sounds conversational as Noreiga uses his bass clarinet to prod and probe along the bottom. The interplay grows busier and more blues-drenched as it develops, however. Eventually, the horns grow more aggressive and dissonant, flying free, as Rainey punches in thrilling counterpoint, and Carney discovers roiling patterns for accompaniment that are, themselves, interesting improvisation.
The opening track, "Inharmonicity", has a more consonant, engaging theme built around a hip piano figure, one that struts with syncopation and incorporates the horns. But it, too, moves into collective improvisation after that, one that develops considerable shape and interest over time. It grows in intensity and then eases up, the whole band collectively molding a highly composed work into something that is truly being composed in the moment. The horns soften and thin out, Rainey clicks on the head of a snare like a master of the castanets, Carney reaches inside his piano to play the strings with his fingers, and the piece never returns to its first written theme at all, refreshingly. It trickles to its interesting conclusion.
Carney makes this band work as a sensitive small band too. "Forty Year Friend" is a ballad that begins just for a quartet, with Coltrane playing a yearning melody. Then Carney brings in trumpet and bass clarinet for a second theme that limns the first with more color. The arrangement gives Noriega a legitimate "solo" on his lovely bass clarinet, with Carney's dark chords flowing beneath him—a more traditional jazz performance, although Noriega hardly respects the strict guidelines of the harmonic pattern. After his turn, Richards and Coltrane come in to play a duet improvisation, with Noriega remaining with the rhythm section, playing inside the harmony again. The flugelhorn and tenor tumble over each other in utter sympathy. Where they conclude sounds composed but, frankly, it is so fluent and natural that it is equally plausible as perfect improvisation. (Jim, never tell me—I'd rather not know!)
The band can have fun too. "Mayor of Marcellus" is a twisty-turny lick over a deliciously funky odd-meter groove, and the band keeps playing it even as improvisation takes place. Douglas carries it with his pungent bass tone, Carney never quite lets it go, and the horns go in and out of playing it, embellishing it, or departing from it. The effect, with Rainey keeping up a New Orleans-y kind of chatter, almost makes the band sound like a hypermodern version of Armstrong's Hot Seven. And you can dance to it. "Throwing Shade" cracks too—the recording's longest track but also very playful.
Like Aaron Parks, though with a very different sound, Carney often builds his themes out of rotating piano figures that act as motifs in the head and in the improvisations. Here, again, he lets Noriega solo out front, and individual statements follow. Coltrane sounds as good here as you likely have ever heard him, his pleasantly ripe sound working well in his light, upper register. Richards plays her best solo here too, much of it in dynamic conversation with Carney, playing lines and chords behind her in thrilling counterpoint, quoting from a famous Miles Davis record at one point. Carney gets a legitimate solo of own as well, and he proves compelling both in the spotlight and at the tune's end, when he lets Rainey and Douglas take their collective improvisation along with him, quietly.
As a pianist, Carney is underrated, as he isn't a frequent sideman on other recordings, unleashing mad solos on material composed by others. In that way, he is like Vijay Iyer, Jason Moran, and other of the most interesting "jazz" pianists today: sublimating their playing to their concept. It is an Ellingtonian approach. But like Duke, Carney produces music that lets his bandmates rise to dramatic heights within his framework. He rises with them, but there is a self-effacing quality to his playing or to how he positions himself within the group.
Pure Heart is another outstanding chapter in a story that deserves more attention among listeners drawn to serious, engaging creative music. James Carney remains quietly essential.
LA Jazz Scene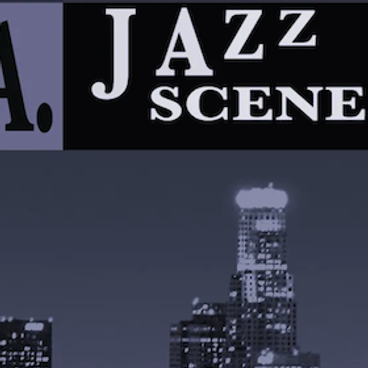 James Carney PURE HEART (Sunnyside) Review
by Scott Yanow
James Carney, who lived in Los Angeles during 1990-2004 but has been an important pianist-composer in New York ever since, can always be relied upon to perform creative modern jazz. On Pure Heart, he is joined by other inventive and versatile players: trumpeter Stephanie Richards, Oscar Noriega on bass clarinet and alto, Ravi Coltrane (tenor, soprano and sopranino), bassist Dezron Douglas and drummer Tom Rainey.
The performances of Carney's five originals, while giving the musicians solo space, are perhaps most notable for the many ensembles which are crowded and often dissonant yet full of joy and spirit. Improvised ensemble playing sometimes seems like a lost art that was forgotten in the transition from swing to bebop, but Charles Mingus and some of the avant-gardists brought it back from time to time. Carney gives the three horns plenty of opportunities to interact with each other, whether accompanying each other's solos or sharing the lead. Noriega's bass clarinet is particularly effective in this setting but none of the musicians are overshadowed, coming together to form a happily ragged group sound that digs deep into the pianist's compositions.
The results are well worth hearing several times. Pure Heart is easily recommended and available from www.sunnysiderecords.com.
METAL JAZZ
Metal Jazz
East and West Coast Jazz Shorts
James Carney Sextet, "Pure Heart" (Sunnyside). L.A. pals who miss pianist Carney since he moved back East will be glad of this focused collection featuring a gang of avant all-stars. Carney chose well in drummer Tom Rainey and bassist Dezron Douglas to anchor his counterslapping rhythms; Ravi Coltrane, Ocar Noriega and Stephanie Richards are the kind of horn ensemble that fulfills dreams. Richards' trumpet and Noriega's bass clarinet overlap their cries of past memory and present pain in the quietly dissonant lament for a "Forty Year Friend." And the rushing groove of "Gerrymandered" segues into an unexpected but wonderfully resonant unaccompanied meditation from Carney. - Greg Burk
"Mr. Carney is a sharp pianist and a broadly imaginative conceptualist and composer." - Nate Chinen
— New York Times
Press Photos
James Carney, Richard Bonnet, Samuel Ber
Request a complete press kit