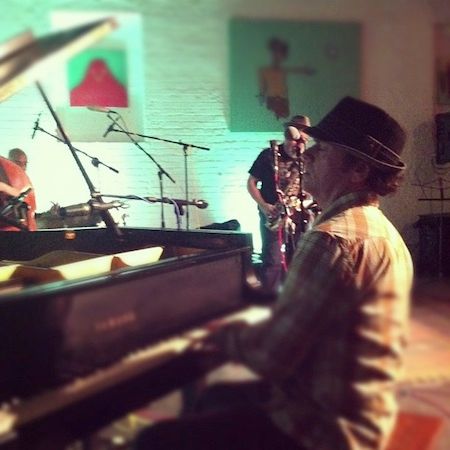 James Carney, bio
Mr. Carney is a sharp pianist and a broadly imaginative conceptualist and composer." - Nate Chinen, The New York Times.
Award-winning pianist, keyboardist, and composer James Carney is a fearless improviser with a reputation for an original, polystylistic approach to making music - a philosophy that respects and explores both tradition and the avant-garde. 
Recording as a leader for prestige labels including Sunnyside, Clean Feed, Jacaranda, and Songlines, James Carney regularly fronts bands featuring some of the finest musicians working today including Ravi Coltrane, Tony Malaby, Chris Lightcap, Mark Ferber, Josh Roseman, Oscar Noriega, Stephanie Richards, Michael Attias, Dezron Douglas, Tom Rainey, Alex Cline, Nels Cline, Tyshawn Sorey, Ralph Alessi, Todd Sickafoose, Kris Davis, Ches Smith, and many others. 
Carney's Ways and Means (Songlines), a long-form composition and virtual film score, was commissioned by Chamber Music America and the Doris Duke Charitable Foundation. Other commissions have come from the California Arts Council, The Extension Ensemble brass quintet, and the Syracuse International Film Festival.
James Carney won the Thelonious Monk International Composers Award, a California Arts Council fellowship in composition, and two American Composers Forum Subito Grants. He received "Best Jazz Artist" honors at the LA Weekly Music Awards, and he was on the roster of the California Arts Council Touring Program for 6 years. Carney has been a visiting artist at The Eastman School of Music, New York University, Cal State Los Angeles, the University of Nevada at Reno, Ithaca College, Williams College, Saddleback College, California Institute of the Arts and the University of Missouri at St. Louis. Carney has toured in venues across the United States and Europe. 
Konceptions music series, a weekly improvised music series created by James Carney, ran for more than 10 years at five different venues in Brooklyn. During that time, Carney programmed more than 560 nights of critically acclaimed concerts and created a vibrant community that gave birth to new bands, recordings, and collaborations and became a Brooklyn music institution.  
His recent album release on June 5, 2020 is entitled: The James Carney Sextet Pure Heart (Sunnyside Records) and it features Stephanie Richards, Ravi Coltrane, Oscar Noriega, Dezron Douglas, and Tom Rainey. Carney also has three additional studio recordings ready for release, including one recorded in January 2020 with European collaborators Richard Bonnet, Samuel Ber, and Michaël Attias. 
Carney was born and raised in Syracuse, New York. He graduated with a BFA in Jazz Piano Performance from California Institute of the Arts, worked as a composer and music editor in the film industry while pursuing musical projects. In late 2004, he moved from Los Angeles, his home of eighteen years, to New York City.